Thursday, February 16th
Class hours: 9:40am – 2:05pm
Mr. Cronin
Mr. Moore
Notes
Readjusted schedule to accommodate our visitors.  Visitor schedule:

Session 1 (9:35-10:05)

Spencer / Jestings
Jimmy / Sarah
Jayvon / Carner

Session 2 (10:35 – 11:05)

Game Day Determining Quiz Tomorrow! 
Haley 11:45 Kahoot today?
Doors locked immediately after school as normal for Thursdays.
(Meeting in the room this morning before class – 8-9:15)
Web Dev 1 has been published!  Questions let me know.
I have built the Wednesday / Thursday / Friday Animated Jungle Project with some extra time, so students that want to work on NTHS essays, get some constructive critisim, etc, can do this during 7/8.  Essays are due tomorrow at 2:00 sharp.  This was be design.  I am amazing.
9:40 Attendance and Article (read this…maybe….maybe not…VISITORS)
9:45 Cawd Diving
Web Designers
Collaborate with your teammates on a html demonstration test-sled.  One computer.  4 separate html files in mini-projects.  The focus will solely be on the navigation element itself, html + css.
For each of the html document use the new html5 <header> and <nav> elements.  I want horizontal navigation with dead links (href="#").  (The html itself can be pretty boilerplate).  How do you do this?  Google.
Everything goes into a "diving" folder.  Then you will have a "one", "two", "three", and "four" folders.  Inside each you will have your html/css setups.

Project 1 uses an animated background color for the links with a css transform.
Project 2 uses animated text color for the links with a css transform.
Project 3 uses an animated background image for the links with a css transform.  Opacity?  Probably opacity.
Project 4 is up to you but different from the first 3 – make it visually interesting.

Everything valid html5, and all work can go on a single student's account – just tell me which student will host.
Animators
The Titanic!  We all know what happened.  Visualize it.
Start and end in the ocean.
No sound.
720p.
You have today's session to finish your project.  Due next Wednesday at 3pm.
Inside Week 23 on your Google drive, turn in your final project called "titanic.mp4"
2D Animators
Replicating pattern animation.  Abstract, not literal – make something which repeats in a structured manner.  The more exacting the pattern, the higher the grade.
Consider using some of the built-in shapes with Animate – hand drawing everything may not give you the polished look you need for the A.
720p

Letter grade extra credit if you find some tribal / edm music, import it into Animate, and sync up your pattern animation to music.  

Upload to Week 23 on your Google Drive as "pattern.mp4".
Game Design Teams
Quickly meet with Mr. Cronin / determine next step.  Playable game next week! 
Whatever we agree you are going to do this week you need do demonstrate.  If static images they go on the web server, if animations / screen captures they go on your Google Drive.
10:10 Break (15 Minutes)
10:25 Cawd Diving
Work and save.
11:45 Kahoot for Prizes! 
12:00 Lunch (30 Minutes)
12:30 Attendance and Article
12:35 Quiet Production Time
12:45 Creative Commons 
(This review should take seconds)
What does this offer designers?
How can we use websites such as Flickr as tool to obtain images to use, adapt, remix, and even sell?
How this is best practice as young designers.  Doing what is right.
Quick review on setting up masks in Photoshop for non-destructive editing
Destructive editing
Forcing an adjustment to be on a single layer
Playing with filters to affect only a single layer to best merge the visuals together.
Creating an animated gif of your project coming together – this is new for Thursday afternoon people.  
1:00 Wednesday / Thursday / Friday Afternoon Creative Commons Sourced Exercise: Animated Jungle
Using the Creative Commons filter on Flickr you are going to build a Photoshop composition of a Jungle scene at 1920 x 1080 pixels in size in Photoshop at a resolution of 72.  As we are not going to print this, we are going to use a lower size.
As the end of this project, you are going to have something filled with digital content you did not create, yet with full rights to sell it for profit without sharing any of the earnings.   Everything is legal.
First save your file "jungle.jpg" and upload to your Week 23 folder.  This will be the end result of your project.
In addition, export an animation of your elements coming together as "jungle.gif".  It will look as the files do above, being built.
Finally, create a html document called "jungle.html" which has links to the source imagery you used.  This is how we will give attribution to the original artists which is a requirement of the attribution license.  The html file you create simply has to have an unordered list with links to the specific Flickr page of the image you used.
I didn't require a lens flare, but it kinda sets the tone for a fantasy, Avatar-ish style.  Use responsibly.
To review you will have the following deliverables:
"jungle.jpg" – the final result.
"jungle.gif" – the animated file being built (as above).
"jungle.html" with as many outbound links as you have images used.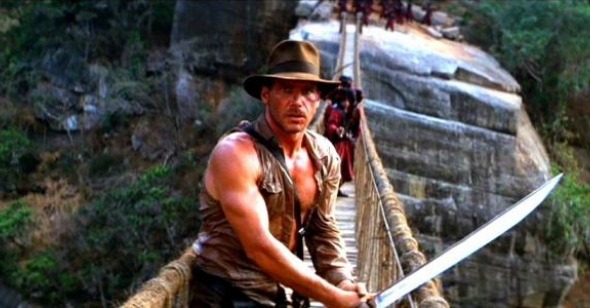 Here is an example of this type of work in action.  This is a matte painting combination used in Temple of Doom.  This was the result, and this was what was actually painted.  We can use our computers and art to create something that never existed.
2:00 Dailies
2:05 Dismissal