Class hours: 9:40am – 2:05pm
Mr. Cronin
Mr. Moore
Notes
Cawd Food Drive!  So far we have 15 pieces of food.
Today we are going to do some of our work out of order as we need to create the sketch first, and then get into Illustrator for the post-quiz sketch.
9:40 Attendance and Article
9:45 Harold Wood Presentation:  Crypto Kitties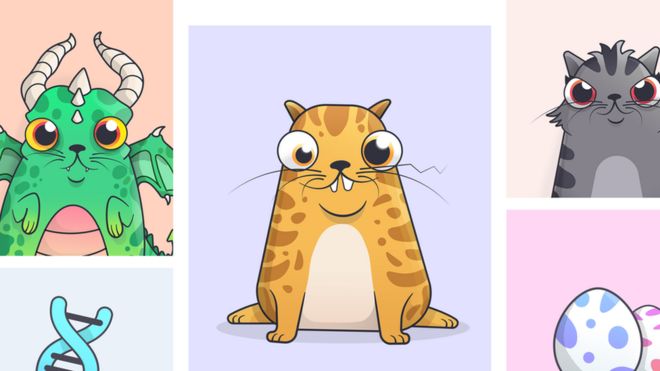 10:00 Friday Morning Sketch:  Final Draft of SkillsUSA Pin Design
Taking your 2-pack which is graded and in your cubby, and the final draft template I will give to you, select the design which you are most proud of, and you think will do the best in the Cawd Pin Design Competition.  I do not care about the fine art side of this, what you think is the "best".  We want to see what will win.  This week is all about the practical art, and the target audience, very much like what we are going to see in the industry.  
Remember that the first round is in our class only, and you have to be a top-8 pin to be selected to go to the CTE wide competition.  Top 8 in Cawd get extra credit.  You want this extra credit.  
The SkillsUSA Pin Design Requires:
"Vermont" – imagine that.
"SkillsUSA" – lowercase kills.
The date:

"2018-2019"
"18-19"
"2018-19"
Get back into your small groups, green people go to the back of the room:
Judah / Jimmy

Tristen / Nathan
Miles / Laterreur

CJ / Meli

Haven /Eli
Jordan / Isaac
Jean-Marie / Thompson
Evan / Shepherd

Colton / LaForce

Moore / Leavitt

Wood / Senghe / Wytewa (Group of 3, but extra credit still in play if at least 2 of you get selected)
Make sure you place this sketch on the back table by EOD / Wednesday for credit with your name and date. 
10:25 Cawd Study Group
Senghe
Cameron Leavitt
Eric Thompson
Harold Wood
Victor
10:45 Break (15 Minutes)
11:00 Friday Morning Quiz
Notes / Music Away
Single Browser Tab
Silent / Stay in Seats
Click here.
11:20 Friday Morning Illustrator Content:  Pin Design First Draft
Today in Adobe Illustrator you are going to start creating the 1st draft of your Pin Design.
Start with an 8.5″ x 11″ canvas at portrait size.
Begin your creation, working full size.  Don't worry about the small sized version.
Save your file as "pinDesignV1.ai" in your own drive for reference.  
Export a .jpg (with artboards selected) as "pinDesignV1Cronin.jpg" and upload to your "week_14" folder on the web server.
Even though we are in Illustrator we have to be silent until 12:10!
12:10 Lunch (30 Minutes)
12:40 Attendance and Article
12:45 Friday Afternoon Google 20% Project
Regardless of what you choose to work on save in a dedicated "20" folder on your web server / shared drive.
I am coming around for topics today at 12:50.
2:00 Dailies
2:05 Dismissal