Class hours: 9:40am – 2:05pm
Mr. Cronin
Mr. Moore
Notes
Cawd Food Drive!  So far we have 0 pieces of food.
What will come out of the water?  Think fast before it happens.
A big gear.
Working with Visitors – the only real way for extra credit in Cawd (other than the quizzes).
A couple students have dropped below a C due to some missing assignments, meaning no music during production until we get these grades up.  You can check yourself (so I don't have to tell you in public to take your headphones off) OR I can come around, but I would rather not single anyone out.  I will grade late work after school today, and you can get them back for tomorrow.
Quiz tomorrow! 
Full Student council meeting today 11-30 – 12:30 with Pizza in M116.
9:40 Attendance and Article
9:45 Morning Photoshop Content
Adjustments (We know this, but I want to point them out.)
Erasure tool / Masks (We know this but I want to review very quickly)
LENS FLARES (Not many real applications of this tool, but fun to use here and there.  FYI Earth only has one sun.  ONE SUN.  No – Katie this is from a movie called "Star Wars".)
Layers (…)
1080p (1080 pixels in height, 1920 pixels in width)
Creating animated gifs from Photoshop
10:10 Morning Photoshop Exercise:  Jungle Composition
Today we are going to work at 1080p HD size.  You are going to use different imagery from the internet (anything legal to use) and combine together into a jungle scene.
You will use a minimum of 5 different images of jungle-related content.
Really think about your lighting before you settle on all 5 images.  If an image you set on using has very dark shadows coming from a bright light source, make sure that your other images mimic this lighting style.  Just as cooking with fresh, quality ingredients leads to better food, doing Digital Image Manipulation work with quality source imagery will make your life easier (when combining) and create a better end result.
Export an animation of your elements coming together as "jungleCronin.gif".  It will look as the files do above, being built.
I didn't require a lens flare, but it kinda sets the tone for a fantasy, Avatar-ish style.
Mini-dailies at 11 for anyone that wants to show off their creation.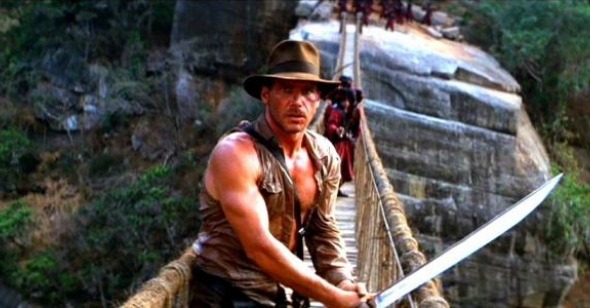 Here is an example of this type of work in action.  This is a matte painting combination used in Temple of Doom.  This was the result, and this was what was actually painted.  We can use our computers and art to create something that never existed.
Make sure what you create this morning looks real!  
Some other examples which look really rather odd as they all start with nothing.  Trust me there are images here.  
Here is one:
And another:
And another:
And another:
And another:
10:15 A visitor to Cawd
10:25 Cawd Study Group
Senghe
Cameron Leavitt
Eric Thompson
Harold Wood
Victor
Please have notes ready for me tomorrow before you return to the study group.
10:30 Ms. Charron Visits to talk about Dual Enrollment
The first component is the "Accuplacer".  It will determine who is worthy of the chance to earn college credit next semester.
10:45 Break (15 Minutes)
11:00
Jungle Presentations?
Does anyone want to show off as the created something nice looking?  Think of this as an optional, mini daily.
11:10 Unreal Content
Setting up checkpoints for the game to track laps.
We are going to use a 3 pronged approach for our driving game to keep track of laps:
Have a checkpoint keep track of when something drives through it (the car).  When a care leaves the checkpoint…
Run an "Increase Lap" event which we will define in the HUD (Heads Up Display).  This event will update what lap we are on…
Display the current lap on screen from the HUD.
Increase Lap Custom Event which lives in the HUD (Heads Up Display):
Code that goes in your checkpoint Blueprint:
Basic on-screen lap display:
12:10 Lunch (30 Minutes)
12:40 Attendance and Article
12:45 Wednesday / Thursday Advertising Content:  Your Salsa
Continuing with what we started on Monday, we are going to build our Salsa Brand, as well as the Salsa itself.  Use what we created Monday as your base.  
I am not going to talk at you a bunch today, as you really know what to do, but this is the rough afternoon workflow.  
Create "salsa" by creating and revolving a line that mimics the jars profile, and then goes to the center of the jar.  This way when you revolve it it will be "solid".  Very similar to the lid.
Create a "brand" for your Salsa and apply to the jar.  Any image from the internet is legal to use.  Do you wantnt a traditional salsa?  Sure, snag some imagery of peppers, Mexico, etc.  You want a "Nicholas Cage" Salsa?  Ok, get a picture of Nicolas Cage being excited about Salsa.  The Word Salsa must show up.  You will apply this material to the central area of the jar, just as I have done above.
Texture your salsa.  I have used a "mountain" material in the Salsa above, and adjusted the settings to get a red look with green flecks.  This is called a procedural texture and is built into Maya, and uses Math to programmatically create a material.  Are they as photo realistic as image based textures?  No. but you don't always need that.
In the end create 3 renders called "salsaCronin_1.jpg" through "salsaCronin_3.jpg".
We get Wednesday and Friday to model, and then we will animate next Monday and Tuesday.  Mrs. Wolfe's class comes in next next Thursday and Friday mornings.
2:00 Dailies
2:05 Dismissal